Parliament's investigation into ending one's life in New Zealand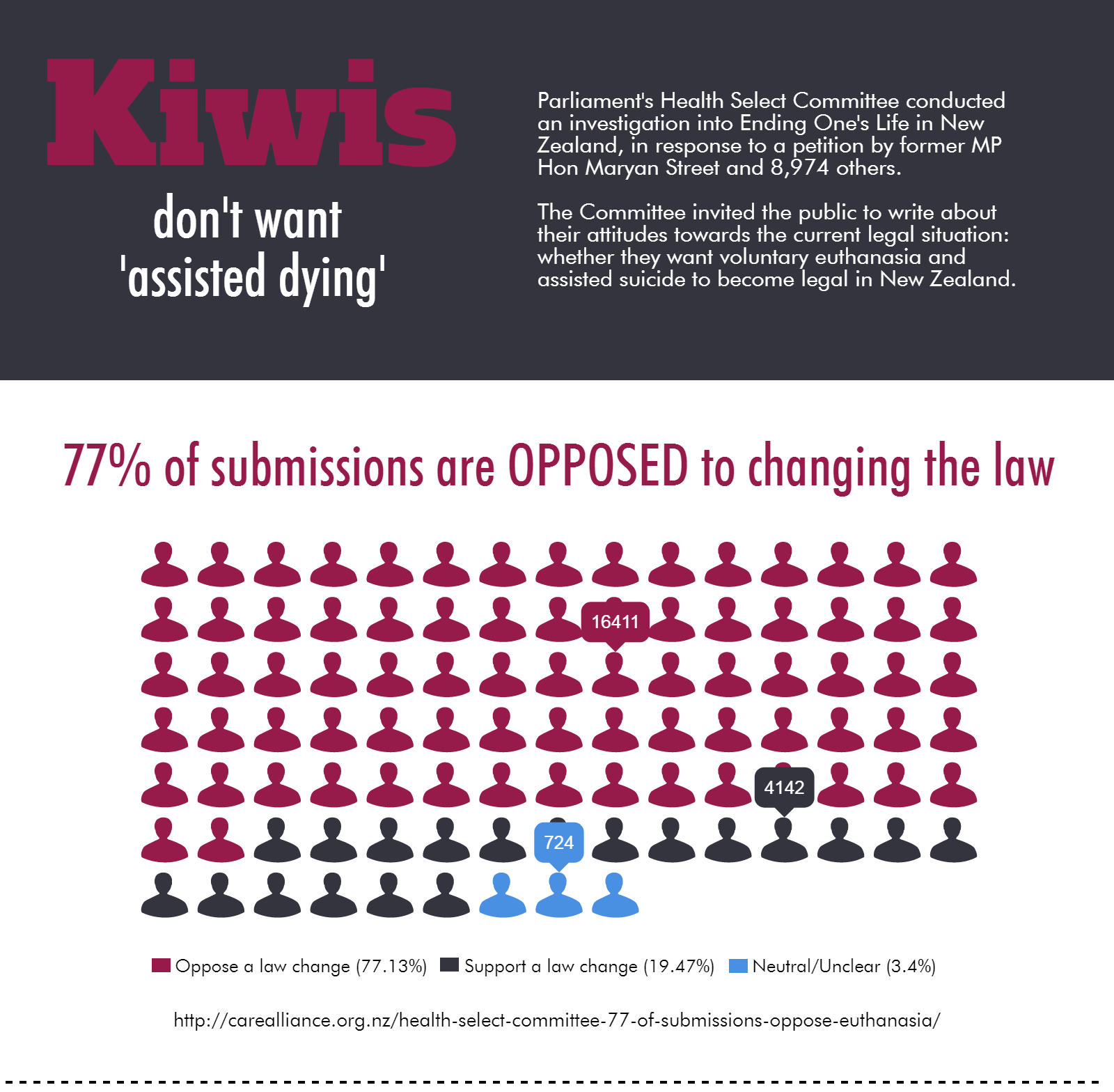 Click here for the larger, complete, printable infographic

The Health Select Committee is currently conducting an investigation into ending one's life in New Zealand.
Until 1 February 2016 the Committee called for written submissions. A record number of unique submissions were processed. They are published at Parliament's website.
A random analysis (based on a sample) found that 78% of submissions are opposed to changing the law on assisted dying (assisted suicide and voluntary euthanasia). The website, 16000Voices.org.nz, showcases some of these submissions.
The Care Alliance analysed all the published submissions and found that 77.1% (16,411) are opposed to euthanasia and assisted suicide; 19.5 % (4,142) support euthanasia and assisted suicide; and 3.4 % (724) are neutral or unclear on this issue.
They also analysed the length of each submission and whether religious arguments are used. The submissions opposing euthanasia and assisted suicide dominated each length category and 64% make no mention of religion.
See our media release and an infographic about the results.
From 24 August 2016 to March 2017 the Committee heard oral submissions, inviting everyone the opportunity to speak who indicated that they wished to do so. The next step is for the Committee to write a report and present it to Parliament.


Email us your thoughts

Whether or not you wrote to the Committee, we would love to read what you think about suicide, assisted suicide and euthanasia. You are welcome to send your comments and questions to admin@euthanasiafree.org.nz


What is the investigation about?

The Committee is investigating:
The factors that contribute to the desire to end one's life.
The effectiveness of services and support available to those who desire to end their own lives.
International experiences.

The Committee intends to consider "all the various aspects of the issue, including the social, legal, medical, cultural, financial, ethical and philosophical implications".
Here is an interview with Simon O' Connor, the Chair of the Health Select Committee, about the scope of the investigation.


Stay informed

David Seymour's End of Life Choice Bill is in the Members' Ballot, where it stands a chance to be randomly drawn for debate.

Sign up here to receive updates, including if the is drawn and when Parliament's Health Select Committee issues their report on their investigation.

Your information will be held securely in the Euthanasia-Free NZ database and will not be shared with any third party without your permission. You could unsubscribe at any time.